Eva Zaicik and the concert of the lodge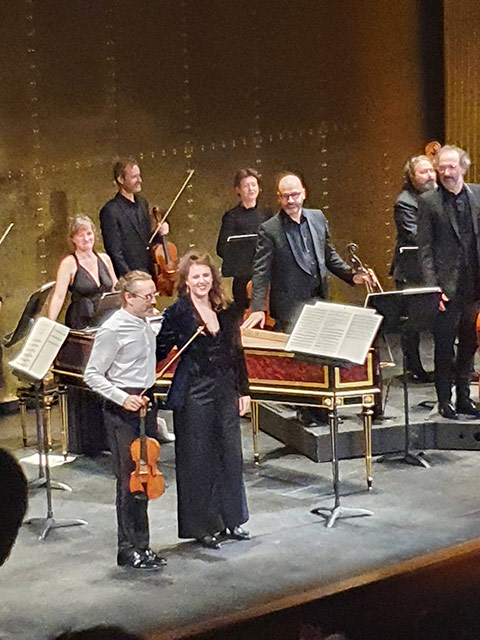 Finally, on Sunday, October 9, 2022, Eva Zaïcik was heard singing at the Théâtre des Champs Élysées, and each moment is remembered as precious. A French mezzo-soprano, she has enriched the Baroque with her deep velvet voice, adding her special interpretation to some of the great essential music from Haendel to Vivaldi, where her first notes are immediately recognized. Thus, his Royal Handel colors many scores with his remarkable singing of warm complicity with the composition. His recent Nisi Dominus has appropriated, in a singular way, this great text with happiness.
Introduced and framed by the excellent Concert de la Loge, led by violinist Julien Chauvin, she brings to life some of Vivaldi's little known arias. Her signature is there, right away, with the Andromeda liberata "sovente il sole", that P. Jaroussky also sang very well. And one hears only her, so much she imposes herself in this aria so calm and so powerful which seems made for her voice in a continuity and an infinite proximity. Expected after the opening of L'Olympiade and a sensitive and lively violin concerto in D major, she fills the stage with her presence and a sound that she makes obvious.
After a second concerto just as lively, she returns to the Olympiad, with "Gemo in un Punto e fremo", which great voices have also sung, seizing vividly, with great surety, this aria that suits so well to her agile voice, whose low notes enchant us as much as the high ones. Before carrying us away with the "Agitata da due venti", from Griselda, which has resonated strongly in Bartoli's past, and on which her powerful personal imprint marks us as well. She continues with "se lento ancora il fulmine" from Argippo, where Cecilia Bartoli also left her mark, taking it up in a completely different way, softer but just as effective.
The third concerto in G major perfect from Concert de la loge closes this concert excellently, and Eva Zaïcik's Encore gives the Vedro con mio diletto from Vivaldi's Giustino, which Jakub Jozef Orlinski made it sound so good at the beginning of his career. Here it is taken up again in a different way, wearing a fluidity in which this warm tonality gently flows in a rhythm that gives it a new meaning, where one thought that nothing more could be said about it. And one recalls then that with him she recorded during the confinement this marvelous "Ah mia cara" of Haendel, which discovered a prodigious alchemy between these two voices going so well together.
Eva's hands during this song, one does not pay attention at first, however they are not simple way of standing while singing, banal animated frame of the carried voice, they are not tended in front in square, nor folded up on her bust the completed sending, they draw a mute punctuation accompanying the voice of the poem like free quotation marks. They write with accuracy, still uncertain and of a discrete line, hardly completed, the chorus of the voice which rises, the inflection which it carries, the color which digs it, this gesture of the margin where the song is recognized in the intimacy of the artist, so much it reflects her being while seeming to carry it.