Orphée et Eurydice, Théâtre des Champs Élysées, Paris, 21 septembre-1er octobre 2022.
Thomas Hengelbrock, Robert Carsen, Tobias Hoheisel, Jakub Jozef Orlinski, Regula Mülhemann, Elena Galitskaya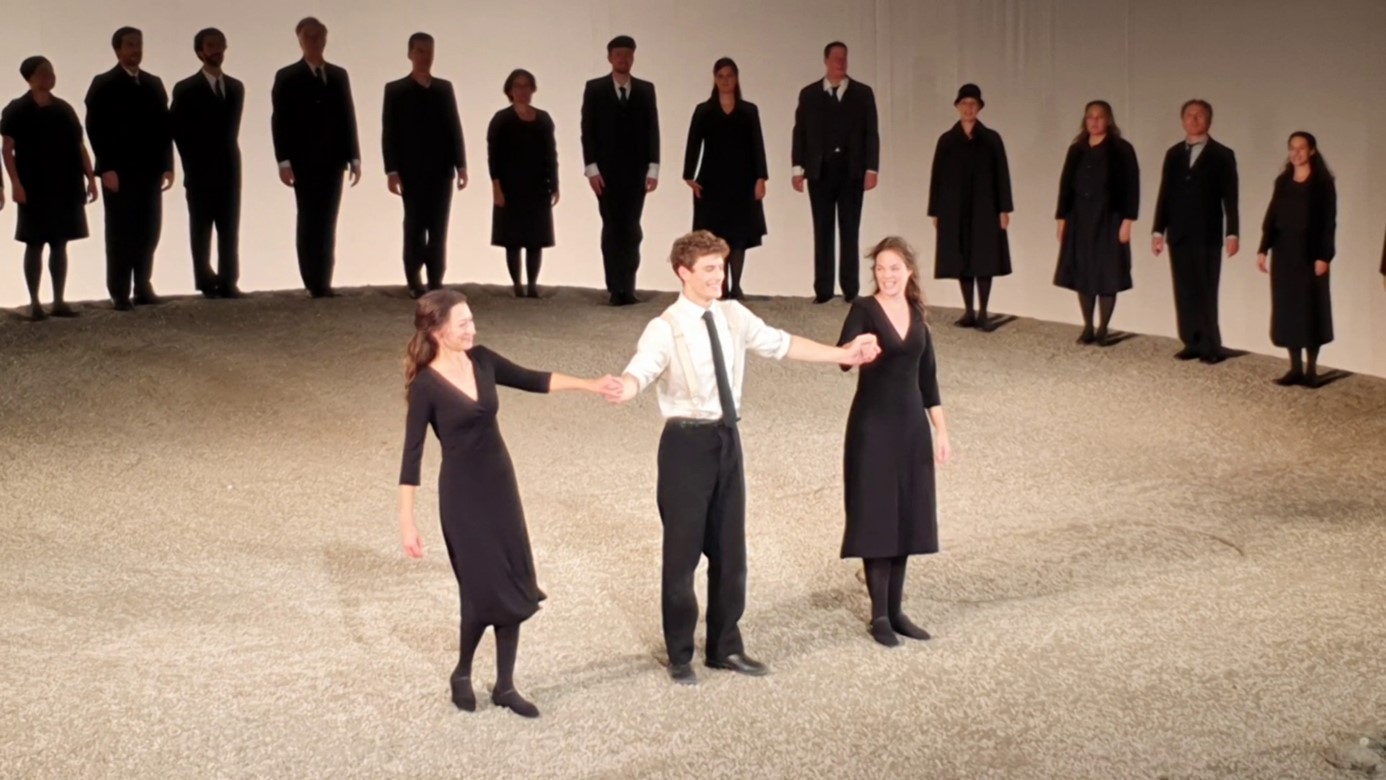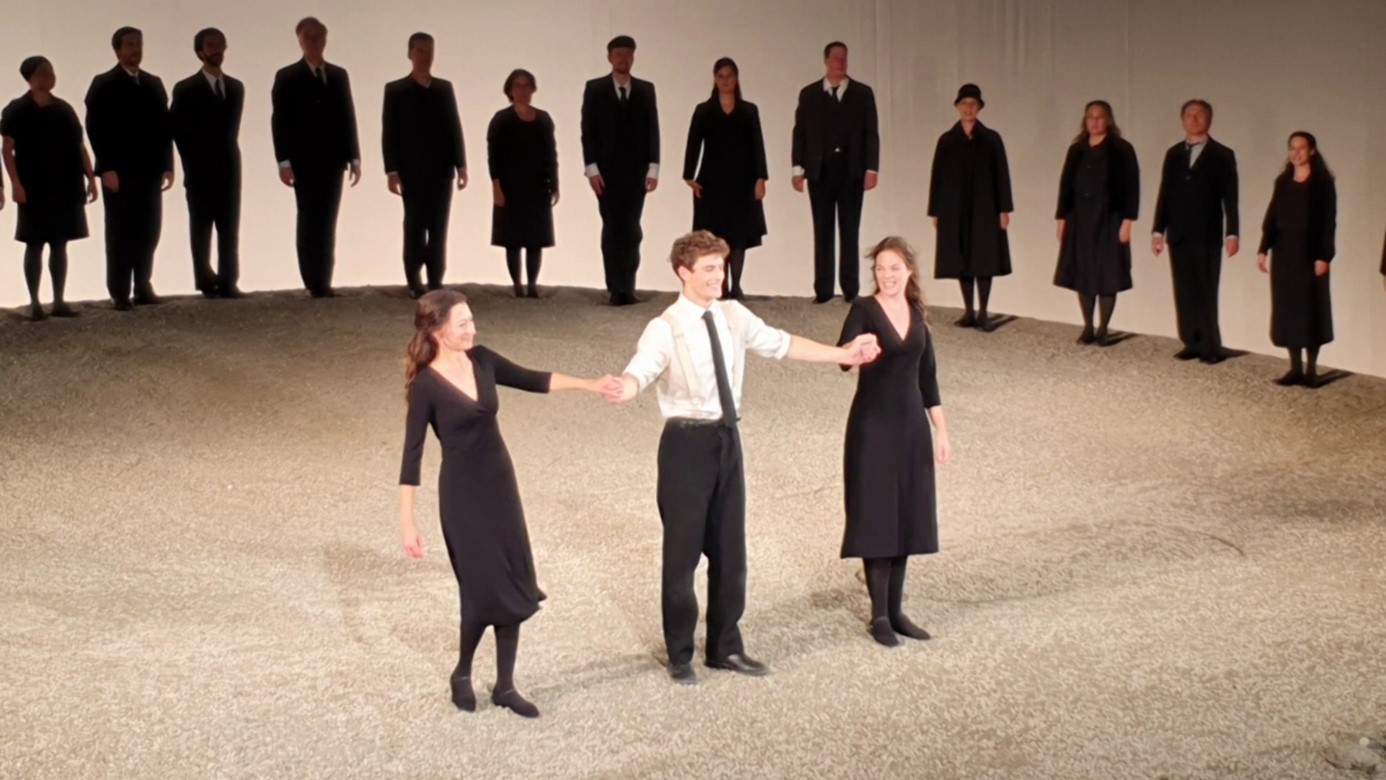 Each version of C.W. Gluck's opera Orpheus and Eurydice is eagerly awaited, so well-known is the fact that this great moment of music and drama is also often a state of the place and time. Originally sung by a contralto castrato, then a soprano, then taken over by many mezzo-sopranos, then a contralto, before the role was once again held by men, baritone or tenor, it is now the domain of countertenors. We do not know what the original interpretation of the castrato Guadagni, chosen by Gluck, was, nor that of Pauline Viardot, to whom Berlioz gave the role when he brought Gluck's Orpheus back to life, while among the multitude of known interpretations, some hold an exceptional place, like that of Kathleen Ferrier. The historical development of Orpheus' song is fascinating, as it reflects what societies do with gendered representations and their inscriptions in the arts. Do we know, however, what this drama of the man whose music moved the beasts and the trees still tells us today, this Orpheus who also cured, interpreted, prophesied, when bringing back from the underworld his dead wife he lost her again for having looked at her?
Gluck's 18th century opera and Calzabigi's libretto say something essential, both musically and dramatically. Orpheus looks at Eurydice and loses her again, not by foolishness nor by anxiety, not so much by desire, but because she asks for it, even demands it. She dies a first time for having stepped on a snake while fleeing from the desire of some forest faun, and she dies a second time by asking for Orpheus' desire, by wanting him to look at her. Gluck condensed, in Vienna and then in Paris, at the invitation of Marie-Antoinette, a musical renewal brought as close as possible to the drama in "a simplicity and an almost sacred intimacy", says Thomas Hengelbrock, director of the magnificent version at the Théâtre des Champs Elysées. He gave song and life to this new man in prey to the desire of the woman that modernity would not cease to describe, when Antiquity had often treated him in the grimace of the furies and other bacchantes.
When one has the pleasure of attending a performance of Gluck's Orpheus and Eurydice, this opera whose song has left a deep imprint on you, an appointment is there waiting, which one does not miss. As soon as the curtain is raised, the chorus and the stage are set up, you wait for Orpheus' first cry, a moving signature, the first word, the word of everything. Few Orpheus have taken possession of this opera immediately by the quality of this cry, Jakub Jozef Orlinski emerges in an unforgettable way, his "Euridice" almost screamed like a celestial song meeting hell crosses you by piercing the scene of a love such as you dare not imagine. You barely notice that he is singing, his voice comes out of nowhere from the bosom of the mourning crowd, like a sacred chant from the top of a cathedral, yet it cries from below. On the few miraculous notes of Gluck brought to their acme, this D three times which crosses the octave, high crystal but not feminine, his first haunting call takes us out of our seat and traverses us from one side to the other, it makes us tremble like an inhuman cry. It is not a cry, however, it is not the cry that Gluck expected from his first Orpheus, like the cry of a leg that is cut off, it is not the cry of the wounded beast, it is something else, which overwhelms us. When the second cry arrives, still screaming, a little louder, this E, D which softens in a G, it appeases us. We already know that in this place that invites us, this September 21 after seven and a half hours, this voice and this young man will carry this music and this drama as few have done before. Kathleen Ferrier's unimaginable voice had already accustomed us to overthrow fate, to cross gender, to collect the human honey of the wounded man. She poured it, threw it as no one would have dared to expect it, however unreal it was conceived, we tipped with her into the exquisite pain of Orpheus, from her first "Euridice".
On this stage a chorus also accompanies us, it speaks to us, it speaks to the heroes and speaks about them, it sings and resounds in each decisive action, it is necessary in this precise place. It does not simply march, procession in echo, it is there entire character which thinks, suffers, opposes, deplores, such the Greek tragedy where it calls us. His choral quality is essential to support this issue and does so, the Balthazar Neumann choir and his orchestra of the same name take care of it, masterfully carrying the voices, and also the grammar of Tobias Hoheisel's black silhouettes moved by Robert Carsen, which assemble and slide, seeming to dance gently along the banks. Moreover, it must be said that everything is dance in this show, the choir that undulates, this dancing Orpheus who leaps, jumps, twists and folds, and the other characters who resonate in a constant ballet.
The scene in the cemetery sets up the gray desert that will mark the entire setting of the drama, and we are grateful to this gravel, to the simplicity that is not vacancy of this colorless earth, for taking nothing away from the purity of the man's mourning in front of the hole that aspires his love. He speaks singing with his so beautiful voice, this countertenor who knew like Deller before him how to sing towards the feminine without ever leaving the man, Jakub Orlinski coming there as the evidence of Orpheus, as if he had to interpret it since ever, as if this role was waiting for him. His deep tessitura embraces these arias from the low to the high notes, balancing his timbre and his accent so pure, and his extreme articulation, his tense expression, are always so right that he inhabits this song as if it were his house. He never embodies a singer who plays, nor an actor who sings, he merges them all together as if he could not say this pain without singing it. Sometimes his voice is covered by the orchestra, and we miss it, either because it has not yet reached its full power since the initial jump, or because the orchestra plays too loudly. But very quickly it takes amplitude, it goes up from the underworld and joins us among the lights where Eurydice will reach soon, it sings to the death, in a light which engraves the black shades, in oval around the inclined ground.
The song of Love, Elena Galitskaya, is always right, swirling and light, a radiant soprano who comes to bar Orpheus' death and deliver him the conditions of salvation. The scene that sees him descend to the underworld among the dead lined up in white sheets and the scattered flames is of great power, in a music where the choir shows as much vocal presence as stage presence to refuse his calls. Nothing of this music is useless, not a moment of this staging is vain, they carve each time of this terrible dialogue in a graphism which traces the event, frames it, draws an infinite chord. We are suspended wide-eyed at this drama and these voices for a time that escapes us, until the awakening of Eurydice where the beautiful gracious voice of Regula Mühlemann, takes its place naturally. The dialogue begins between the man and the woman, in the perfect alchemy of their voices until they go back to the surface of the earth in a slow dance, the man carrying on his shoulder the hand of his love behind that follows him and that he must not see. All of Jakub's extraordinary play, concentrated and worried, frightened and then cowering so as not to see her, is now going to be confronted with an adversary other than death, with this call that she still sends more and more demanding that he look at her and see her, and with his heartbreak at refusing without being able to say why he must. She wants him to find her again desirable, beautiful, she wants to know it, it is not enough that his love has found her, she needs his desire. Eurydice's song is exacerbated, beautiful round voice of warm soprano, beautiful face of young woman decided, until Orpheus yields, and that at once again between his arms she fails.
This powerful symbolic grammar questions us deeply in a music of a theatrical simplicity. It reverses the myth, invents a couple where the woman dies to the desire of the Man in order to be born again by eliding her body and her beauty, where only what she gives him with her love will count. Each sentence of Orpheus weighs this issue, mimics it with a strength, an authenticity that his talent as an actor fully inhabits and that he makes us live in step with his drama. Having given in, he takes us into this aria that all of us know, painfully lulls us with these words that the greatest voices have made resound: "Que faro senza Euridice, dove andro senza il mio bene", a moment of perfection where we communion in this art pushed to the extreme, thinking that this interpretation of Orpheus will resound for a long time to come, beyond this September 21, 2022, at night after seven and half, in Paris, at the Théâtre des Champs Élysées.
And then comes the happy ending of Gluck's opera which once again stops Orpheus' desperate gesture and brings Eurydice back to life. The Greek myth does not include this second chance, which is a little lightly given, it lets Orpheus die from the fury of the Bacchae, whose advances he refused to accept, and only then does he return to the underworld, where he will find his wife again for eternity, without gaze, without desire, in serenity. We forgive Gluck this shortcut, so much the happy simplification that he aims and obtains appeases us nicely, so much we take it as a symbol without looking further, so much the dramatic continuity that he realizes between the stage and the orchestra carries us without failing. We are grateful to him for the magical synthesis of his work which, some have noted, condenses an Italian vocal treatment, a German harmony, integrates the voices and the ballet into the drama like the French operas, while bringing back into the action the tragic chorus of the Ancients. And all this in a dramatic coherence, added to this luminous staging, with perfect costumes and lights, all this, it must be said, leads to an enchantment.