Jakub Jozef Orlinski's concert at The galerie des glaces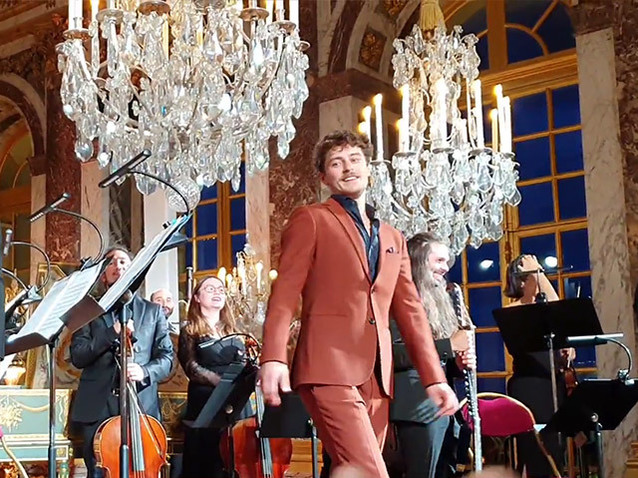 You arrive at the Galerie des glaces after having been gently prepared by music that follows you through the Gardens, down the great Royal Alley to the horses that leap out of the water in an incomparable movement. You are already bathed in music, sometimes beautiful and moving, and you know that you will soon be immersed in it without restraint, because you have known Jakub Jozef Orlinski's music for almost two years. You and Europe, and beyond, have become aware of it through the kind of virus that social networks like to cultivate by suddenly propelling someone into the light, while the halls of the great theaters all over the world immediately invite the one who has been thus illuminated. When it's a real discovery, you are grateful, even if about vocal music, opera or sacred, you often make discoveries, assiduous to its most beautiful productions, and especially to this baroque music that you have loved for a long time, this particular voice of counter-tenor of which Alfred Deller the first made you dream, and of which Andreas Scholl perpetuates the excellence. Moreover, you heard this voice for the first time when, overwhelmed with grief by the fire destroying Notre Dame de Paris, you watched on your screens the consolation concert to which this singer was invited, and where he had chosen to sing "Ombra mai fu", the shattering song about the shadow of a tree, the tree that will become again for all of us the cathedral.
There is a common mistake nowadays concerning countertenors, describing them as "resurrected castrati". However, a good countertenor, who learns to use his head voice in a certain way, does not stick to the arias of the castrati, he is capable of all sorts of adventures, including returning to his baritone voice if he feels like it, in a certain part of what he sings, as is the case of Jakub Orlinski.
So you know that you have finally managed to attend one concert after they have been cancelled so many times, after you have been deprived of all living art, like all of us, for almost two years, and you wait with emotion while sipping champagne around the Gallery, seeing the perfectly restored Royal Chapel, and then you enter. Luckily you have been able to get a seat in the front row on the left, just in front of the small staircase where the musicians arrive and depart. The Gallery, furnished with red velvet chairs, is dazzling, its luxuriant beauty invades you like never before, because tonight it will be bathed in an exceptional sound. The people arrive, numerous, the room is full, this time the sanitary gauge was removed, other places were made accessible, and all are there, tended, happy, incredulous still of this happiness so much times withdrawn, of which the waiting so much times postponed increased tenfold the tension with the joy. Finally, at 9 pm the music begins, they arrive, the musicians of Il pomo d'ore, that excels in baroque music and that accompanies many great singers, then behind them, Jakub Orlinski, and it begins slowly. The pieces follow one another, Cavalli, The Calisto, then Boretti, Eliogabalo, Bononcini, "infelice mia constanza"… The tone rises, the applause begins to clap louder, the voice settles a little more. We begin to feel its power and its very particular tone, this voice that can never be confused with that of another countertenor, because it always remains anchored on the male side of the voice, never mimics a woman's voice, as it happens often in this field, and it is colored with a high and soft note at the same time, warm and decided, which makes it a true creation. Its presence and power begin to give their full measure, you are enveloped in it, you feel in this voice as at home. It fills everything, bathed in the impeccable instrumental accompaniment, conducted efficiently and warmly by Zefira Valova, where one can feel a true musical understanding between musicians who love to play together, and whose pleasure in playing together is communicated more and more as the concert progresses. Then Conti, Handel, "Spera che tra le care gioie" magnificent, and the splendid "Pena tiranna" of which we know the filmed recording. Jakub establishes a singular, unique bond with the audience, which will fill us with pleasure, then with laughter, because he jokes, he talks, he talks to us, a little bit about him, a little bit about us, but not too much, just enough for us to weigh what it is worth to be together for this moment, with him, through his music.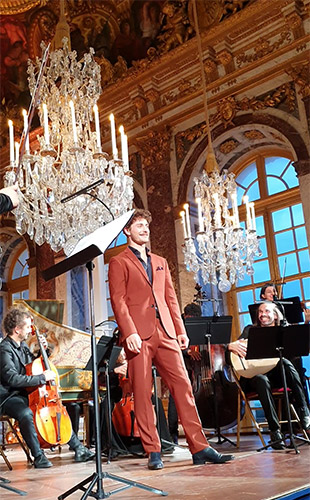 Jakub Jozef Orlinski, Galerie des Glaces de Versailles (4 juillet 2021) © Gisèle Chaboudez
And as the audience responds a little more to each piece, he comes forward and laughs a little more, dances a little, which he does, we know, divinely, he becomes happy and we become happy with him. There is never a doubt about a possible excess in this unusual participation in classical music of the singer's person, never anything gives the feeling that it could be a banal or easy complacency. He inspires the audience with his usual grace and sincerity, with his personal intervention, full of kindness: just a few words, which always come across right, a smile, an invitation to enter his world, humor on the skin. Suddenly you are knocked off because the music has interrupted his speech, his voice has burst, brutal, in the middle of the laughter that still lingers, and it carries you away immediately, imperious and radical. This voice is powerfull, it follows the meaning of the piece, it even precedes it, it is sometimes tragic from the start, sometimes it becomes tragic little by little, and Jakub's nice face then takes on a fullness of expressions, of mimics such as you don't usually see in a singer, or in Callas and few others, but always in great actors, tragedians in particular. Then Predieri, Orlandini " Che m'ami te prega " ...
Thus the successive pieces continue, the heat rises, the cheeks turn pink, his smile expands, his voice bursts again in the violence of some pieces, the intensity grows on all sides, which reaches each of us and all at once, an intensity to which you were invited, but which would never have taken place if you had not responded, applauded, shouted, laughed, and asked again. At 10:15, a first Encore begins, and ends in calls for more, the audience rises, the cheering continues, the singer returns and here comes a second Encore, and so on, a third... Ten minutes of standing ovation, you don't often see that in classical music, you know that, when the pain of confinement ceased, you have heard a great moment of music, an exceptional musician, and still something more, unforgettable.
Gisèle Chaboudez
Versailles, July 4, 2021